Crystal Beach Amusement Park
Please note that the Crystal Beach page will contain primarily photos and postcards of the park. To avoid too much duplication, please go to Crystal Beach Park for a very detailed history of the Park and other photographs.
In The Beginning
Crystal Beach Amusement Park
Crystal Beach park first opened on the shores of Lake Erie back in 1888 as a Chataqua/religious campground. Sometime around the turn of the century a carousel and some other rides were added. A pier was built into Lake Erie, and ferry service to Buffalo was started. There was even an electric monorail type railroad connecting Ridgeway to Crystal Beach called the Ontario Southern Railway. Over the years the park also hosted a number of roller coasters, including the world famous Cyclone.
Crystal Beach was a wonderful place to visit, and quite affordable too. Of course, one of the most popular items, other than the great coasters were the Crystal Beach Sugar Waffles, and Halls Suckers, both of which are still available from a private company in Fort Erie using the original Hall recipes. During the 1980's, the first 2 cars on each train of the Comet Roller Coaster were reversed giving the rider a completely new experience. However, in my opinion, riding backwards, even in that first seat was STILL not nearly as bad as riding the ride facing forwards.
The declining years and the end
During the 1980s the park was starting to decline. The carousel was sold off in pieces to pay for other park improvements and new rides for the 1985 season. However, despite these and other new additions, the park would not survive past the 1989 season, and on October 17th, 1989, Norton Auctioneers were on site to sell off the remaining rides and attractions. Most of the rides survived to find new owners, like the Comet, which has been rebuilt at Lake George New York. However, even though the very rare Giant Coaster, one of only a handful of side friction roller coasters left in the world was purchased at the auction, it was destroyed on site. The park is now home to condos owned mostly by Americans. It is very hard to even see where the park was, as the land was levelled for the condos.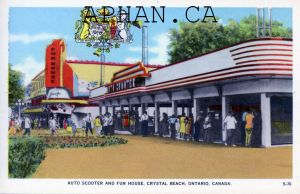 A postcard showing the Autoscooter and Fun House
(APHAN Collection)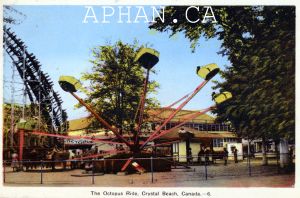 Postcard (front) view of the Octopus ride.
(APHAN Collection)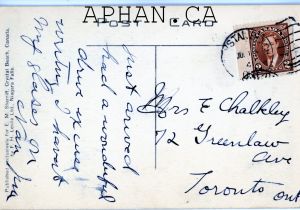 Back of the postcard above.
(APHAN Collection)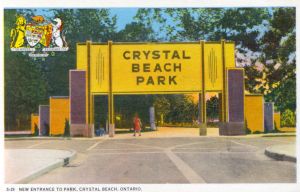 This classic postcard shows just one of the entrances that was at the front of the park.
(APHAN Collection)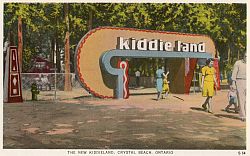 This sign was once located at the entrance to Kiddieland.
(APHAN Collection)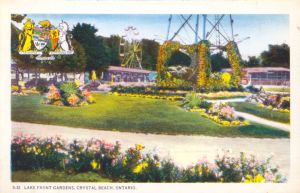 A postcard view of the Lakefront Gardens
(APHAN Collection)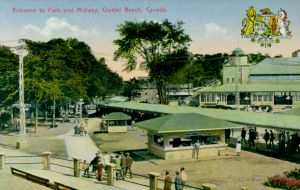 This postcard view of the midway and ballroom shows what visitors coming off the boats would see.
(Niagara Falls Ontario Library)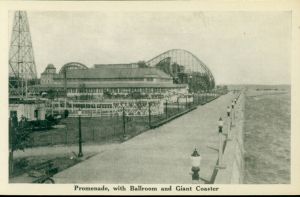 Looking towards the Cyclone coaster along the promenade, one can also see the tower ofthe plane ride at left, and the track of the Tumble Bug, in front of the Ballroom.
(Niagara Falls Ontario Library)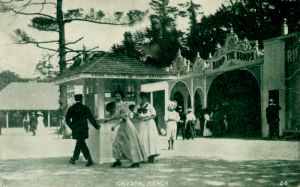 One of the ticket booths located throughout the park, this one locatedin front of the "Bump The Bumps" ride sold tickets for 5c (or 3cents, it's difficult to tell), which were good anywhere in the park.
(Niagara Falls Ontario Library)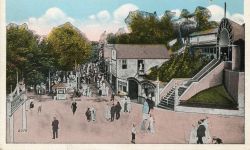 A look down the midway at the turn of the century, with large crowds, and the roller rink on the right hand side.
(APHAN Collection)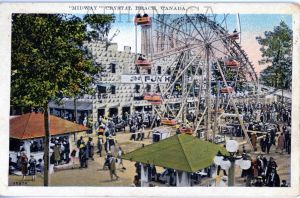 Postcard (front) view of the scenic canal boat ride.
(APHAN Collection)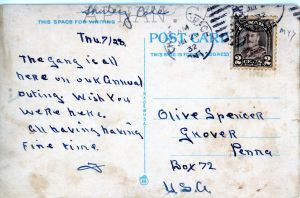 Postcard (front) view of the scenic canal boat ride.
(APHAN Collection)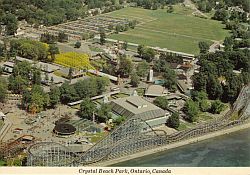 This postcard arial view of the park taken in the 1960's shows a great overview of the many rides and attractions Crystal Beach had to offer. Some of the rides and attractions shown include the Wild Mouse, Comet, Ferris Wheel, Auto-Scooter, Giant Coaster, Crystal Ballroom and Magic Carpet.
(APHAN Collection)
Here is a list of the rides and attractions the park had at closing in September 1989:
Antique-Car Ride (Bruchsal) 6-Vehicle
Boat Ride (Herschell/Ward)
Bumper Cars (Soli)
Carousel (1956) (Herschell) 3-Row, 40-Horse
Carousel (1975 ?) (Mack) Motor Vehicle Model
"Castle" (Ball Crawl) (Wafabco)
"Chair-O-Plane" (1976 75 ?) (Sartori)
"Cinema 180" (Hollingsworth)
"Comet" Roller Coaster (1948) (Schmeck/Allen/Mitchell)
Electric Boats (1979) (Ward)
Ferris Wheel (12) (Eli)
"Flying Bobs" (1980) (Chance)
"Giant" Roller Coaster (1916) (Harton)
Go-Carts (?)
"Karousel" (Barbiera) 3-Row, 42-Animal
"Lady Bug" (1978 76 ?) (Everly)
"Laff In the Dark" (12-Car) (1936 Chambers) (Shown in error as 1939.)
"Little Dipper" Roller Coaster (Herschell)
"Magic Palace" Walk-Thru (Funhouse with mirrors, tilting room, air blowers, tipping wall, bar maze, and slide.)
"Monster" (Eyerly)
"Moon Walk" (1988) (Wafabco)
"Pirate Ship" (1978) (Huss) Installed in 1980
"Saw Mill River" Flume (1982) (Hopkins)
"Scrambler" (Eli)
"Skyfighter" (Herschell)
Sky Ride (Hopkins) (15 Gondolas)
"Super Duper" Water Slides (1978)
"Tilt-A-Whirl" (Sellner)
"Tip Top" (1966) (Hrubetz)



Here are of some of the games the park had at closing in 1989:

Basketball (Princeton)
"Bob's Space Racers" (7-Position "Whack-a-Mole")
"Boom Ball" (4 Unit)
Darts (Princeton)
"Derby Racer"
14-Gun Shooting Gallery (McGlashan)
Remote Control Tanks (6-Unit)

The above lists were used with permission from the Closed Canadian Parks website.

Some of the original tickets used at the park before the General Admission was introduced. These tickets are from the 1975 season.
(APHAN Collection)

Postcard (front) view of the scenic canal boat ride.
(APHAN Collection)

Back of the postcard above.
(APHAN Collection)