Prudhomme's Landing - Wet 'N' Wild
Wet N Wild
Wet N Wild was located along the QEW at Jordan, and featured 2 waterslides, a tube ride, wave pool, Go Karts, Tilt A Whirl, Bumper cars, Bumper boats, a haunted house, and food and games. The park closed in the early 2000's, and is slowly being removed to make way for new condominium townhouses. Wet 'n' Wild was always busy whenever I went there, and it really is too bad that we had to lose yet another attraction like this. In my opinion, if someone had come along and maybe added a few more rides to the park, it could have still been open, and possibly more successful. However, the slides were still older technology, as you still had to slide down them on the mats. The tube slide was a lot of fun though.
The photos on this page were submitted to me, photographer unknown. If these are your shots, please let me know so proper credit can be given.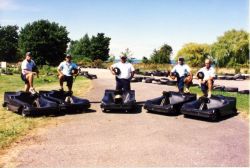 The crew at the Go Kart track pose with some of the cars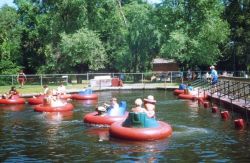 Wet N Wild's bumper boat ride was a fun ride during the hot summer months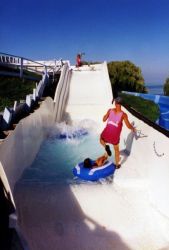 A life guard gets out of the way of a slider on the tube ride.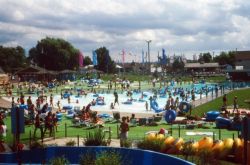 A veiw of the wave pool, taken from the steps leading up to the top of the slide hill.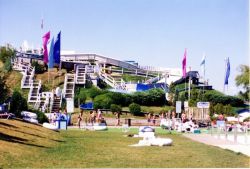 This shot shows the man made mountain that the 2 slides and tube ride were on.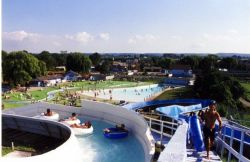 Taken from the top of the mountain, this gives a good overview of the entire water park. The tube slide is at left, one of the waterslides is at right, and the wave pool is in the distance.